Celebrasto - Crossed Knives
War calls echo through the valleys and the battlefield of a bloody wasteland
He who crosses the knives to his enemy is no more than a murderer
Crossed knives sown the evil seeds, plant your devilous deeds
The flags of the nations are held high
The soldiers rush to seek the enemy
They say they fight and kill for their and their countries' freedom
When truly it is to enslave others for their countries' benefit
I wish the cries of death would silence
I wish death would cease to exsist
I realise it never will with greed and hate in this world
Please hear my cries to end this suffering.
Sunrise
The sunlight so pure so bright
Sparkles, shimmering on the waters
Casts shadows,
The radiant beauty, reflects
The ball of fire, a Goddess in form
The sun glows upon the dawn
Bringing new life, on the land
Sun, stay with me through the day
Sun, the beauty shines through the gray
The sun an object of everlasting beauty.
The Black Rose
I dreamt of the black rose withering,
You were screaming, in deepest agony.
The petals rotted and fell,
I realised he was dying.
The light colliding with the darkness with,
The mystery of life seemed closer.
The rose breaks, collapsing in my hands,
I tremble, weeping in my hands.
The final petal remains,
Fragile and soft to my face.
I must save him,
My love I will rescue you.
The rose my fragile hope.
Twisted
She sits by the day,
Glazed eyes,
Cold expressionless.
She sits silent,
Not whisper a word.
You can see her inner turmoil,
Although she dare not speak her truth.
The marks up her wrists,
The guilt in her mind.
Her fault all the time.
Memories they come,
By daylight she weeps,
Alone.
By night fall the twisted man comes,
She is all alone.
No one to turn to she runs.
He has her again.
'Show me the blood bitch'
He yells taunting her.
Twisted, sickened.
Possesed by the devils soul.
She strikes herself again,
Desire in the pain of her relief.
The twisted soul,
Sickens her.
But, she may never escape.
Tonight
The note rests upon my lap.
Tonight, shall it be the night?
He shall know all.
Can not wait another day.
Shall write to him in the morning.
My thoughts and emotions.
Spilled.
Hope he will forgive me.
My foolishness.
How stupid I am.
But, I shall do it.
I hope he can forgive me.
Lady Macbeth
Lady cursed the blood of many stains her skin.
The voices repeat the same word in her head.
She had a heart of stone.
The murder she ensued for lust and power.
The power, Queen she craved.
The witches warned of the evil tale.
Forced him to the edge.
He did it, killed them, you did too.
Lady Macbeth, wants more and more than he could give.
Drove to kill, in sinful deciet.
Lust for power, drove her greedy eyes to the prize.
Now the death toll, is tatooed on your heart.
Wash your hands clean, stains still remain.
Lady Macbeth, always wanting more.
The voices haunt in your sleep.
Fair Lady you may be, you killed them too.
Wash your hands, they will never be clean.
Drove by lust for power.
Always wanting more,
Lady Macbeth, murderer.
Angel Enslaved
The angel she is enslaved by love
Her dearest love, the cruelty master
Encaged her within her own desire
Her wings torn from her back in her sleep
She shall never fly again
Twisted and evil he her master
She loves him dear
But, that love was her mistake
It is consuming her whole
Making her nothing
Her purest white light
Has faded to black in the darkness
Encaged with his grip
She may never see the light of day again
Her dearest love, the cruelty master
Love has destroyed her heart,
He has caged her soul.
The Woman In The Looking Glass
Staring back at me who is she?
Looks like me but, doesn't look like me.
How can it be, is there another me?
She gazes with worried green eyes.
Mistyfied.
Pale and cold.
She looks lost...
...Just like me, just how I feel.
How can it be that she is me?
Beauty of the Beast
Tortured and left to die in sadness
He wished only to be with her.
Did not mean any harm.
His inner soul was caring and sweet at heart.
The inner beauty that did not show.
Could not face to be alone.
He crawls on hands and knees,
Begging, pleading her.
Only to be thrust away.
Rejected, oh the kind heart of the beast.
Judged only by looks and not by kindness of heart.
The beauty of the beast shall never show.
They shall never know
The next one is one of my faves:
Candles
The candle glows in the blowing wind.
The grey cloud cast down from lips of sins.
The child weeps their tears.
The silence travels, the sound of the place.
Haunts by the spirits.
Never settled.
The ancient rumors spread and flee the life.
The souls that haunt these grounds lust each other.
Causing the peace to be broken.
Never to be restored.
Till they lay in each others arms again.
Fade Away
Sitting here in this empty room.
I'm writing my last poem to you.
If you could see all the pain I feel,
Concealing this love I keep for you.
Would it make any difference at all?
I picked the last rose,
The petals they fall as I cry here alone.
My last words, shall they be written in heartfelt sorrow?
Now the sun is going down,
The beauty casts overglow.
The petals are falling again,
Like the tears on my face.
Can not find the will to keep on lieing.
With the pain my heart is slowly dieing.
Now, you know could you leave me here alone?
Destroying any fantasy of you and me.
The last petal remains,
As I write the final words to my final poem.
Sitting here in this empty room.
I'm writing my last poem to you.
Mermaids Tale
Come follow us down to where our voices sound.
Come follow us into the water.
Enchanted under my spell,
You shall aid my mermaid cry.
Half-human, half-fish.
How can it be, the human heart is calling me.
Deprived of my human mind, where am I?
The waves engulf you, you fool to follow me here.
Deep under another soul stabbed into our hearts.
The mermaids only wanted to be free.
Unhunted, at peace.
Never wanted to hurt anyone only wanted to be free.
Mermaids Song
She is calling to you, listen to her
We are the seas whispering voice
The voices that call from the waves haunting you
Heed the signs,
Take your chance before she is gone
She loves you is it too plain to see?
All she sees is you in her dreams and fantasies.
She needs you, hear her call.
She believes you care,
She doesn't have words to voice her emotion.
We are the seas whispering voice,
Heed our warning before she is gone.
She loves you...
Graced
The green lands and the gentle breeze,
Remind me of the beauty this world posses.
The cool grass lies underneath my body.
The soil I gently fold in my hands shows of land so pure.
The flowers smell so sweet and dazzle with such radient beauty.
The world has beauty.
Let them see...
Here are some of my Photoshops...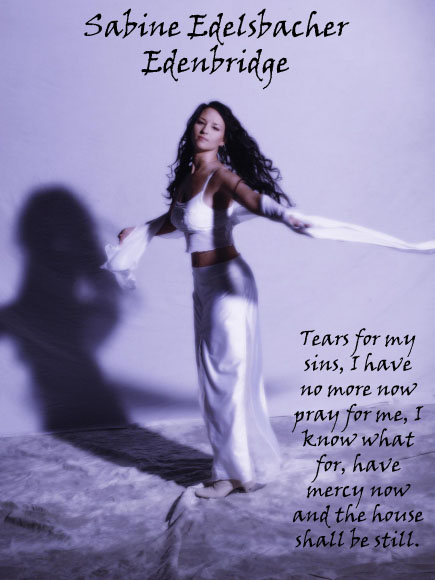 This is the Canterville Ghost version.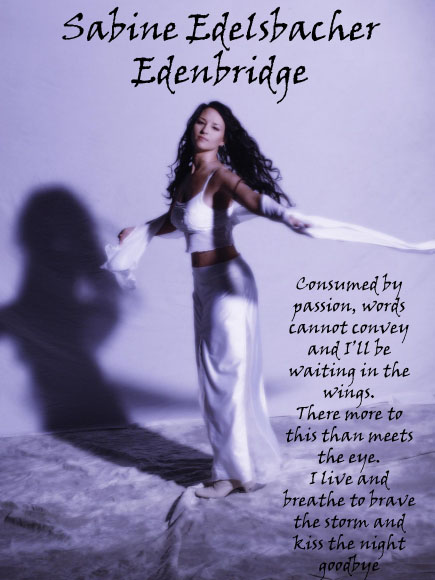 This is the Undying Devotion version.
The Door
The light have faded from my eyes
As with the sounds from my ears
The earth appears a black wasteland
The crest of evil breed and cretinous seed
Brest of the mother who feed them
I look to the sky, to the clouds
The grey clouds kiss the earth with sin
Heavens eye has drifted and left us
We shall suffer, I can not find the door
I have the key in my heart.
Can not find the door, the door to freedom.
We shall suffer for the evil that lurks here,
Punished for others wrong doings
The hell shall open up and swallow us whole.
I can not find the door to freedom
The door to hope is lost
Is there escape for us no more?
Save me, save us, I'm begging.
Can they not hear me,
In this land I do not belong.
I can not find the door.
Katra sets: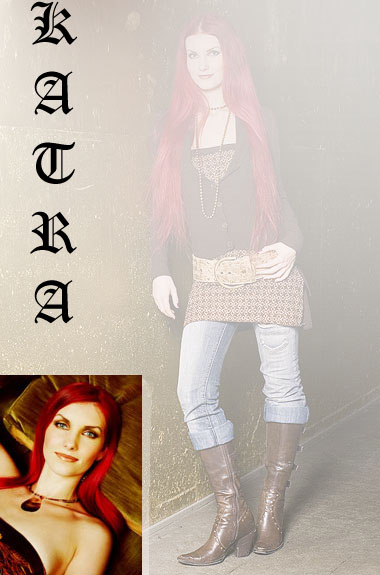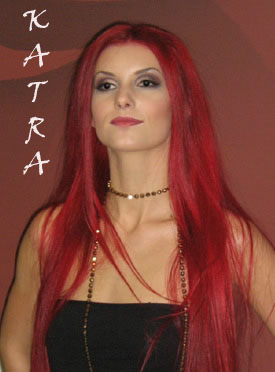 Thanatos (Should I give in?)
Speak the truth, I am no fool
I see right through you like I do a window
You gave everything to help them,
Where did I come at the bottom of the list?
You are like the others you never have cared.
And maybe you never will...
Thanatos has come closer to me here.
With it my life is fading, fading, fading out.
Soon there will be none of me left.
And still my love keeps me strong.
Without it I could not belong.
I have no thirst for the libido!
If this love goes so will I!
I am drugged with doubtful truths.
Seperate from reality.
'God' has no place here in my mind,
The name is merely a belief in a pictured mirage!
Thanatos lies here stealing my sanity.
Slowly, slowly, slowly I am losing my mind.
Should I give unto the thanatos?
If this love fades out there will be nothing left.
The words are begging forgiveness with a hand reaching out.
Forgiveness for what?! Why is it worth so much?!
The bleeding in the head is worse in the heart.
Father you could not even accept that I'm in love with another.
Thanatos is the whispering voice in my head.
Thanatos if my love forsakes me could you strike me dead?
Father my dearly loved enemy of life.
Time and time his words have struck like a knife.
Can not love a creation of his own flesh and blood.
How I would if I wanted and could...
Silver Emblem
The walls are whispering the words we don't want to hear.
The moon is crawling across the sky.
Skies are a bloody scarlet.
And the winds are howling.
The silver emblem the family crest.
The curse of the all, as we watch each one fall.
The weeping sun is now lying helpless in a ocean blue.
Dishonesty and betrayal haunt the halls.
The blood shed for the hidden secret yet untold.
Yet we know all to well, the pain of forsaken lands.
Why blood lies on the sand.
Why we must fight till the bittersweet end.
Avatar: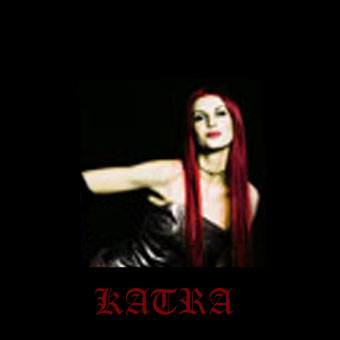 Signature:

The Liar
From a distance I can hear you whispering
Your heart is so cold and your body is frail and fading
We've been down the darkest of lanes
To see us hurt each other again and again
All I ever do is try and my efforts are in vain
Across the distance I call your name
You won't hear me even when you stand next to me
Here me speak, the words of the dream I once had:
"The world I all but desired, the tears I cried were scorching fire,
The liar born, his name was there and I knew.
You knew it was you.
Covered up in a mastered disguise,
All lies, the thing I despised.
The tears became rain pouring down, down, down.
All I wanted I had found.
Then my tears made everything burst into flame.
The fire couldn't be tamed, like my love for him.
Everything I want and desire, make it rain fire.
The liar destroying everything that was and could ever be.
Never a care in the world for me.
As I cry they die,
Weeping wounds of molten fire.
Dieing because of my desire."
From a distance you show your endarkend-self,
Your heart is cold and warmed by my hearts fire.
You the born liar.
All I ever did was try and all my efforts were in vain.
I hate the words of mine twisted by you.
I have sense and am standing up stronger.
Standing next to you I whisper your name,
Liar.
Watch me give life to the fire.
Crying and screaming for every power over myself I once had.
Laughing as the tears burn my flesh, rolling down my cheek.
Oh, I am still as much as human as you.
The rain is pouring down on you now.
What are you going to do, Liar?
Watch as my deepest desire helps give life to the fire.
Love is all I ever needed, wanted, desired.
The Sun's fire is alive within me.
I shall give light to you no more.
Liar, watch the fire...
Now my tears make everything burst into flame.
All my efforts were in vain.
The tears are falling fast like rain.
The sun has given birth to another light.
See me as I don't struggle or fight.
Now I'm stronger in my mind.
Liar, you caused me hell in my mind and heart.
Now watch as I make your life a hell on Earth.
Crouching next to you mind and body in flame.
I'm whispering your name,
Liar,
Liar,
Liar.
Winter's Serenade
Cold, frost, white plumes of air,
Pale skin, red cheeks,
The winter sonne has gone.
Darkness cast over the land.
The cold bites as I walk slowly,
The air brushes softly over my skin.
Leaves fallen on the ground,
Make a whispering sound.
He walks past and the ground cries,
He has my heart, the angel of pure light.
Ice casts down a veil between.
Es ist kalt, es ist sehr kalt.
The blood in my fingers are freezing.
My heart cast over in darkness,
I feel the fire in my mind burning.
The desire is here again.
Crying tears of joy, the tears of fire, not a toy.
Angel of light, ascends to the ground.
A sight of beauty in almost every form.
Give my heart, he can have it all.
Angel of light, beauty in the winter night.
Give my soul, I don't need it anymore.
Ice veil lies between, slowly melting as my minds fire is alive.
Es ist kalt, sehr kalt.
The winter sonne has gone.
The ground cries as I cry at the beauty of a wonderful sight,
Oh, angel the giver of light,
Come take my heart in your hands tonight.
I made new Graphics things

Sarah Brightman:
Avatar:
Signature:
Sonya Scarlet:
Avatar: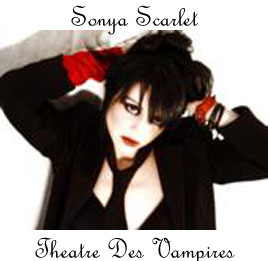 Signature:

The Bell
The bell rings the final hours for those who are lost
The sign of hope and memories
Ringing the death toll to our ears
The bell the sign of death, the deceased
The poppies in the fields continue to grow where they have fell
The screams of the past you can still hear.
"Schnell! Schnell!"
"Now go, go, go."
The screams are echoeing across the landscape.
Past haunts the present, the lucky ones to be alive.
Tolling the strike of death
Scarring the mark in our ears and hearts.
Fallen heroes may you rest in peace.
Without My Wings
Make believe, the fiarytale
Everything was coming together
Then it all fell apart
The glass shattered lays in my hands and at my feet
I may have tried in vain to save it
Closest thing I ever had to a mother.
Everytime I'm trying to fight,
I fall, without my wings I'm a child so frail and small.
Crying hopelessly for someone to take my hand.
Need strenth to grow and without I can't go on.
Everytime I'm trying to fight,
I fall, without my wings I'm a child so frail and small.
Staring at the cut on my hands where the glass has felt,
The thoughts are haunting me.
I may have made it this far, on the hope for something.
Everytime I try to fight,
I fall and without my wings I'm so frail and small.
Maybe In Reality, Open Yours Eyes Tell Me What You Can See
Time has gone by in life
Open your eyes now
Embrace your so-called paradise.
Life is what you want it to be.
The light of the sky shining on blue seas,
Like tears on a frozen pond of ice,
Who thought that being is easy?
There's so much you'll never know with love.
The voices can turn on you and bring you back to the harsh reality.
The sun giving light to the moon,
Like a angel giving it's purity to a demon,
Who said life is easy?
Finding truths in your own reality,
Embrace you so-called paradise.
How things be how you want them to be,
Open your eyes and see the reality for me.
Oh, there's so much you'll never know that is within me.
Lost
Dancing in a circle of fire
I'm lost in pain of desire
Lost in the shadows of time
I'm slipping away, left behind
Without a sound fading away
Lost, lost is in my heart
All what is lost, is lost and gone
Everything is silence and tears
Look in my eyes, tell me love hasn't died
Pain, madness, crimes, lies
I didn't let you go for I can't let you go
Have you left me now time is going and gone?
I can't see what isn't real to me
I'm dieing, I'm dieing
All this time not a word or breathed hush
Desperatley, ... alone
Everything is silence and tears
Look in my eyes tell me love hasn't died.
Rott On The Cross Of Life
Place your bloodied palms in front of your face
Put your hands in my hands let me keep you warm
Tried to be justified
Sacrificed on the cross of life
We, tested to be far from ourselves
From from the sea the angels scream.
The nails through you palms the sins of holy sacrifice
The needs to ride evil in corrupt matter of life
I'm lost in silence staring at you
Wanting you and to be with you
Such a distance
Rott, with the great sacrifice on the cross of life
I'm nailed at the heart, always so far apart
Whispers all I call out
Desperately pronouncing my soul his
There is nother here to see!
Doom manta creep and let me be
Under The Stars
I'll be the one to love you
To cherise you, to hold you
To lay with you under the stars
I'll take your hand in mine
You are all I could ever wish for
My perfect love
I want to be with you
To lay with you in your arms
Under the lunar star
I wish for you to take my hand in yours
I want you to whisper the same words to me
You are all I could ever wish for
My perfect love
We Are But Human
We are but human,
Of the same kind
So why is there so much hate?
You dictate your truths and beliefs,
As if they were also mine,
You have your palce in time,
You'll be forgotten and left behind.
It's the truth of the morbid reality I have witnessed and see.
Reject me if you must for being different,
Hate me if you must for not being just like you.
Oh, we are but human in this world,
Of the same kind, yet our crimes to each other are still unjustified...
War for our difference of beliefs, still human kind
Death for difference in skin colour, still human kind
Genocide for difference of religion, still human kind
Condemned to hell for difference of mother tongue, still human kind.
Life is so short, close to the door, close to edge of the knife of time,
All your hateful crimes for anothers difference remain unjustified,
Why we have to suffer these crimes when we are all human kind.
Hell shall come to twist up your ground whilst heaven's fire falls,
The death of time, the final clock counting down to your demise.
Life is so short, close to the door, close to the edge of the knife of time,
Still human kind, like savage animals we continue to hate one another for difference.
In loving memory of all those who died in vain for their differences
Stamp Out Predjudice Hate and Injustice Everywhere
S.O.P.H.I.E